Keeping our customers safe...
We understand that there are concerns over the outbreak of coronavirus.  We want to reassure all our customers and staff that their safety and well-being is our top priority. 
Before you travel with us, please remember:
We request that if you are displaying any symptoms of the virus, please follow the government's advice and stay at home in self isolation for 14 days and do not travel on our services.

Only travel by bus for essential journeys.
Try to avoid travelling at peak times if possible to help with social distancing.
When boarding, board one passenger at a time, having allowed any passengers to alight the bus first before boarding.
Do not eat or drink on the bus.
Leave the windows open to aid ventilation.
Where possible, customers should use contactless payment (which now has takes payments of up to £45) or m-Ticket methods to reduce the amount of personal contact with the driver.
The seats behind the driver have been cordoned off to keep our drivers safe.  Stay 2 metres away from others where possible.
There are capacity limits on board our vehicles to help maintain social distancing where possible.  If the bus is displaying a BUS FULL board then this means the vehicle has reached the social distancing capacity and you may have to wait for the next bus or make alternative travel arrangements.

If possible, wear a face covering when on board. 
What we are doing to help make bus travel safe:
We have implemented additional precautions since the outbreak; including issuing our drivers with hand sanitiser and updating them on the importance of keeping good hygiene. 
Temporary screens have been fitted on buses to protect our driving staff.  Face visors and masks are also being issued to our staff to wear at their discretion. 
We will temporarily no longer be issuing tickets for ENCTS pass holders in order to reduce the risk of spreading infection, through less personal contact.
Seat slips have been placed on buses to cordon off certain seats and help ensure that social distancing is maintained on our buses.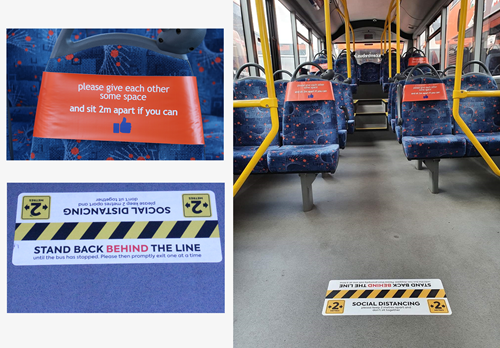 Our buses are having extra cleaning which includes the disinfecting of all hand rails, bus stop buttons and grab handles.
More information on the  NHS advice and guidelines on symptoms of the virus can be found on their website: https://www.nhs.uk/conditions/coronavirus-covid-19/
Information on the latest goverment guidance on safe travel on Public Transport can be found here: https://www.gov.uk/guidance/coronavirus-covid-19-safer-travel-guidance-for-passengers
We are monitoring the situation closely to ensure we follow the latest advise and guidelines from the UK Government and Public Health England. 
We urge that customers refer frequently to our Twitter, Facebook and website for any service updates.
Thank you for your patience and understanding.